Europeans love adventure travel. Each year, Europeans make 100 million adventure trips to another country. Besides there being many adventure travellers, they also contribute largely to the local economies they visit: two-thirds of all their travel expenses are spent on location. Europeans seeking unique experiences and their changing attitude to wellness and technology are altering the market, offering you many opportunities.
1. Product description
Adventure tourism is a tourism trip that includes at least two of the following three elements – physical activity, natural environment, and cultural immersion. It often involves risk and some skill from the tourist.
Adventure tourism is a very large tourism segment, and consists of many niche markets. Within adventure tourism, an important distinction is between soft adventure travel ad hard adventure travel.
Soft adventure travel is relatively safe and hardly requires skills and experience. Some examples include backpacking, birdwatching, camping, canoeing, fishing, hiking, horseback riding, kayaking, safaris, sailing and surfing. Hard adventure travel is riskier and requires more skills and experience. Examples include caving, rock climbing and trekking. Sometimes soft adventure activities become hard adventure activities, such as kayaking in a wild river and hiking in extreme weather or at high altitudes. In addition, danger and skill are not firm concepts and may vary greatly depending on the tourist's own perception.
Figure 1: Two adventure travellers cycling in the mountains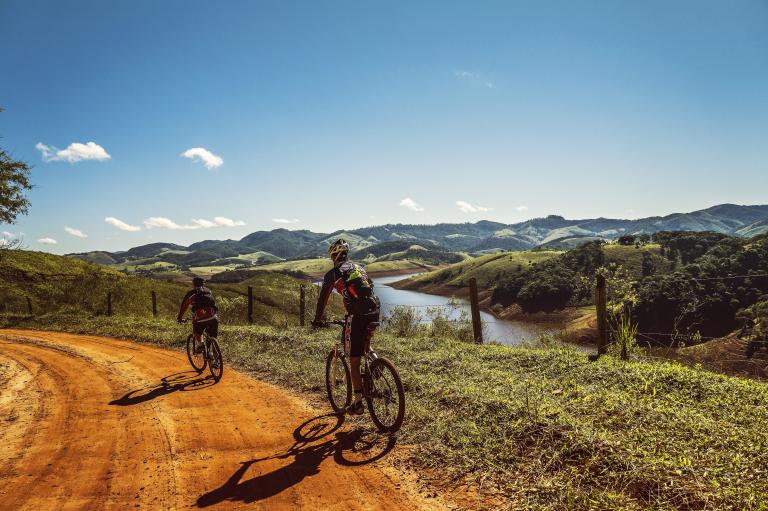 Source: Pexels
For tourism companies, soft adventure tourism services are easier to offer, but in general this also means that the competition is bigger. Soft adventure tourism services require less expertise. Also, there is less risk involved, meaning that fewer precautions need to be taken. Finally, soft adventure travel normally requires less expensive material.
Table 1: Adventure tourism divided into niche markets.
Niche market
Specialist niche market
Example
Soft adventure niche markets
Wildlife watching
Wildlife watching involves viewing wildlife in their natural habitats. It includes different types of safaris, such as 4×4, walking, fly-in, river/canoe and safaris on horseback. The niche also includes trips to view marine life.
Green safaris in Zambia offers high-end and sustainable safaris.
Birdwatching
Birdwatching is defined as tourist travel for the specific purpose of observing wild birds in their natural habitats. The niche is sometimes referred to as 'birding' or 'avi-tourism'.
Tanzania birding offers bird watching experiences in Tanzania.
Fishing
Fishing tourism involves travel away from home for the primary purpose of fishing, either in freshwater or saltwater. Fishing is sometimes referred to as angling.
Enjoy sustainable sea-fishing with a local in Indonesia.
Ecotourism
Ecotourism refers to an environmentally based tourism experience that is sustainable, has low impact on the natural environment and helps to preserve the long-term nature of the community, project or site.
Three House Lodge in Costa Rica offers beachfront houses, constructed with wood from fallen trees and recycled materials, protecting a large area of rainforest and supporting the local community.
Walking
Walking tourism refers to trips in which walking in the natural environment forms a significant part of the trip. It includes hiking, trekking and long-distance walking, and includes specialist techniques such as Nordic walking.
Nordic walking, long-distance walking, hiking and trekking
Wild Frontier Travels is a British tour operator offering walking holidays, in many developing country destinations.
Cycling
Cycle tourism refers to recreational visits away from home which involve leisure cycling as a fundamental and significant part of the trip. It includes cycling types such as road cycling, mountain biking and cycle touring.
Rock, Road and Rhino offers a cycling tour through the Sahara, starting in Egypt and arriving in Sudan.
Community-based tourism
Community-based tourism (CBT) refers to tourism experiences hosted and managed by local communities, which generate direct economic benefits and are sustainable and responsible.
Homestays, visits to villages/communities, local festivals, learning local crafts, participation in community life
Il Ngwesi offers cultural and wildlife experiences, while the profit flows back to the Maasai owners in the community.
Water sports
Water sports tourism refers to sports that take place on the water, such as windsurfing, kitesurfing, canoeing, kayaking, water skiing and coasteering.
SurfCamps offers surf holidays to destinations like Costa Rica.
Diving
Diving tourism refers to tourism trips for the primary purpose of scuba diving. Dive tourism includes diving activities, such as wreck diving, cave diving and free diving.
Eco-Resorts, offering the possibility to watch the whale migration in Kenya.
Sailing
Sailing tourism refers to any holiday where the main purpose of the trip is to sail or learn how to sail.
Sail with Kamarind in Kenya on a dhow, a traditional Arab sailing boat.
Hard adventure niche markets
Land based adrenaline
Adrenaline activities refer to hard adventure activities which require a high level of expertise to take part in and usually involve an element of personal risk.
Rock climbing, indoor climbing, mountaineering, mountain boarding, sandboarding, caving, abseiling, sand kiting, ziplining, heli-biking, ATV off road, orienteering, canyoning
ActiveTours offers mountain climbing tours of several days in Pakistan.
Snow and ice-based adrenaline
Snowmobiling, snow kiting, heli-skiing, glacier trekking, ski touring, cross-country skiing, snowshoeing, dog sledding
LifeTrek offers multiple-day multiple-day ski adventures in Georgia.
Air-based adrenaline
Base jumping, sky diving, wing suiting, bungee jumping, hang-gliding, paragliding, microlighting
Bstoked offers paragliding all around the world, including in Morocco, Kenya, South Africa and Tanzania.
SAVE tourism
SAVE tourism includes four major travel profiles: Scientific, Academic, Volunteering and Educational. The sector is characterised by the acquisition of knowledge for personal or professional reasons, and volunteering is the most common link between all four profiles.
Scientific, academic, volunteering, educational
Tanzania Volunteers organises the placement of volunteers and interns in the local area throughout several establishments.
A specific form of hard adventure tourism is thrill tourism, which consists of activities of higher risk than other forms of travel. Mountaineering and white-water rafting are examples of activities associated with thrill tourism.
This article provides an overview of the segment of adventure tourism, including all soft and hard adventure niches mentioned in Table 1. Note that some niche markets are addressed in more detail in specific studies. This study will also answer the questions why Europe is an interesting market, which countries offer the most potential and which trends offer opportunities.
Tips:
Focus your services on a specific niche or specialist niche market. With a clear focus, it is easier to distinguish yourself from your competitors and attract a specific target group.
Inform yourself about the niches available in tourism, to be able to make a clear choice. CBI offers an infographic which gives a clear overview on all segments and niche markets in tourism.
2. What makes Europe an interesting market for adventure tourism?
According to the Adventure Travel Trade Association, Europe is the main source market for adventure tourism companies in Africa (43%) and Asia (30%). South America profits mainly from North American tourists (54%), followed by European tourists (33%). Within Europe itself, European tourists are accountable for almost 60% of the adventure travellers. Adventure tourism contributes greatly to local economies: approximately two-thirds of the money spent on adventure travel stays on location. This is approximately €350 per day per visitor on average.
Due to COVID-19, however, the number of Europeans travelling outside of Europe decreased by 98% in June 2020 compared to June 2019. Adventure travel outside Europe has almost completely vanished. This decline is more complete in some regions than in others. While adventure tourism trips from Europe to Africa and South America is almost extinct, there are still some adventure travellers (but not many!) going to Asia, because Asia is generally considered to be a safer destination. In addition, regional markets recover more quickly, so countries like Turkey and Egypt will see European adventure tourists returning earlier than long-haul destinations.
The main reason that Europeans are not travelling now is due to border restrictions. Once the border restrictions have vanished, safety will become the most important issue. This is not only about real safety, but also the image of safety that is created in the minds of your visitors. Although you can enhance the image that your visitors have with clear communication, this image is also partly created by the country you live in (for example, Europeans generally consider Asian countries to be safer than African countries).
The expectation is that adventure travel will recover more quickly than other segments. There are multiple reasons for this prognosis.
Adventure tourism involves many small-scale tour operators, which tend to have a very loyal group of customers. These small-scale tour operators have a high credibility and will be much more trusted when they communicate that a destination is safe, compared to some bigger tour operators.
Adventure tourism suppliers mostly use small-scale accommodations, which are better at offering space and distance. These smaller companies are also more flexible, and do not need such a high occupancy ratio. Of course, the adventure tourism market is very large, and adventure tours are also offered by very big European tour operators, who will not profit from these advantages.
For adventure tourists, travel is more important than for pure leisure tourists. Therefore, in general they will be more eager to reschedule their trip and start travelling again.
Before the coronavirus pandemic, European residents made 10 million trips annually to other countries primarily for sports activities. The number of outbound European trips where travellers enjoy sport activities abroad but don't see it as the main reason to go on holiday, is approximately 100 million, based on Eurostat and UNWTO numbers combined.
Based on an analysis of 279 European tour operators active in developing countries, it was found that 80% of these tour operators were active in the adventure tourism market, by offering services in at least one of the niche markets. A closer look revealed that the most important adventure tourism niche market is wildlife watching. Out of all European tour operators, 58% offered wildlife watching activities. The second largest niche market is walking (50%), followed by ecotourism (42%) and birdwatching (37%). Note that the market for soft adventure activities is much bigger than the market for hard adventure activities and the SAVE tourism market.
Figure 2: Percentage of European tour operators that offer services in an adventure tourismniche marketin %5858505042423737222222222222141410109966552020Wildlife WatchingWalkingEcotourismBirdwatchingWater sportsDivingCommunity-based tourismFishingAdrenalineCyclingSailingSAVE tourism05101520253035404550556065Source: Molgo/ETFI
Tips:
Target small-scale adventure tourism companies. They will probably be among the first to send their clients to your destinations.
Keep informed about how to respond to COVID-19 and on how to manage the effects of COVID-19. Read about financial strategies to deal with the current economic uncertainty in a report written by ATTA for adventure tourism companies.
Offer safe and clean services. Most Europeans are less adventurous than they like to think they are, especially in this category. When offering a hike for example, make sure that the route is very clear and the chances of getting lost are zero. When offering a surfing course, make sure you inform your customers about the risks involved and the experience required. When offering an overnight stay with locals, make sure the beds are clean. Prepare your customers well with photos and sufficient information.
Market segmentation
Adventure tourists are very diverse, but many have certain features in common. European adventure travellers have disposable money to spend and are well educated; they are young on average, especially in hard adventure activities.
Older European travellers are engaging more in adventure travel than they did in the past, as older Europeans remain healthy and active nowadays than in previous generations. European baby-boomers enjoy active holidays with culture and nature-based experiences but will most likely not be involved in hard adventure.
Generation Y or millennial tourists, born between 1980 and 1995, are more likely to test new kinds of experiences, according to a 2019 Europe Assistance Ipsos survey. An impressive 59% of European millennials had at least one kind of adventure experience, like staying in a cabin in nature, camping in the wilderness or travelling around the world, according to the same survey. Although above the European average of 53%, European millennials are less likely to experience new kinds of activities compared to American millennials (83%), Mexican millennials (81%) or Chinese millennials (77%).
Together with generation Z tourists, born between 1995 and 2010, millennials are most active during their holidays, especially before having children. Adults with younger children tend to enjoy less-active holidays, but their activity returns when the children grow older or move out. Generation Y and Z tourists without children are the most likely group to enjoy hard tourism activities.
Based on age and level of enthusiasm, there are four segments in adventure tourism (Figure 3).
Figure 3: Adventure travel segments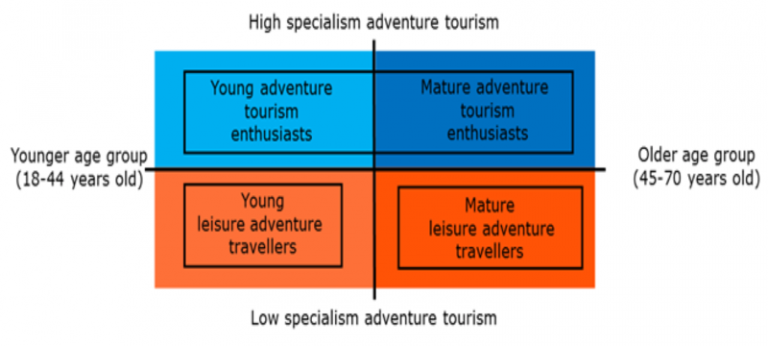 Low specialism adventure travellers are mostly interested in a range of soft adventure tourism activities and like to alternate it with other activities, like cultural excursions. This is the largest segment.
High specialism adventure travellers will also be doing different activities but will probably have a clear focus on one often hard tourism activity. They tend to spend more money on one activity and come well prepared.
Make sure to promote your unique selling points by, for example:
Promoting the remoteness or the unexplored nature of your site;
Point out unique details, like having the highest rocks in an area to attract rock climbers, or the most beautiful night skies when lodging is distant from a surf spot, for example. Every place has unique details.
The older age groups tend to have more money and focus more on low-risk activities, although they may be looking for physically challenging activities. People between 40 and 70 account for two-thirds of the market, according to the Adventure Travel Trade Association (ATTA).
Tips:
Develop a clear proposition, where you focus on one of the segments in figure 3. Collaborate with other tour operators to offer a diverse proposition of soft adventure activities to attract leisure adventure travellers.
Make sure your proposition is at least partly child friendly, as many leisure adventure travellers bring their children. For example, when offering kayaking tours, also offer a tour suitable for children.
Offer more comfort, but not luxury, to older adventure travellers, such as high-quality beds and chairs, quiet nights, fresh air and air conditioning in the room, and curtains that ensure complete darkness.
Be creative in offering a unique adventure experience, like the Gibbon Experience Trail in Laos. Have a clear proposition, focusing on one or a few activities. However, you need to offer sufficient alternatives to serve people with a variety of physical conditions and skills.
Use the segmentation of adventure travel types to determine the focus of your company. But don't use these terms to attract European tourists, who simply don't know any of these terms. To attract high specialism adventure tourists, make sure you are a specialist within your business. Make sure you know everything about the service you are offering.
3. Which European countries offer most opportunities for adventure tourism?
In Europe, the most important adventure tourism markets for developing countries are the United Kingdom, Germany and France, followed by Spain, Italy and the Netherlands.
The United Kingdom – top market, especially on cultural adventure travel
According to UNWTO, the United Kingdom offers the largest adventure tourism market in Europe, accounting for 19% of the world's adventure travel tourists. Among British tourists, 40% prefer active vacations. For British teenagers, this share is 45%, and for tourists in their twenties 54%. Preference for sport-related activities as the main reason to go on a holiday (3.2%), however, is below the European average of 4.4%. British travellers consider their adventure trips as less sport related.
Recent CBI research showed that – out of all British tour operators active in developing countries – 87% were active in at least one adventure tourism niche market. The most important niche markets are wildlife watching (74%), walking (61%) and birdwatching (55%).
Figure 4: Percentage of British tour operators that offer adventure tourism niche products bytypein %7474616155554242323232322424171799887755552020Wildlife WatchingWalkingBird WatchingEcotourismWater sportsDivingFishingCommunity-based tourismCyclingSailingSnow and ice based adrenalineLand based adrenalineSAVE tourism01020304050607080Source: Molgo/ETFI
With a population of 67 million and a GDP of €2.4 trillion, the United Kingdom is it the fifth-largest economy in the world and the second in Europe. With a GDP per capita of €38 thousand per year, the British have an income above the European average. British travellers have a strong preference for developing countries as travel destinations. Turkey (1.6 million trips), and Thailand and India with 1 million trips each are the developing country destinations most visited by British travellers.
Germany is the second-largest adventure travel market in Europe
Germany is the second-largest adventure tourism market in Europe, accounting for 12% of the world's adventure travel tourists. Among German travellers, 5.5% prefer sport-related trips, which is above the European average of 4.4%. Out of all German tourists, 32% prefer an active vacation doing and seeing lots of things, compared to 57% who prefer to relax and take it easy. This means German travellers are less active than the British and the French and prefer pure leisure holidays. Among teenagers between 15 and 19 years, 47% prefers active vacations.
Germany has Europe's largest population: 83 million. It is also the largest economy in the EU and the fourth economy in the world, with a gross domestic product of €3.8 trillion and €40 thousand per capita.
Table 2: German travellers' long-haul destinations in 2019 compared to 2017
| | | | |
| --- | --- | --- | --- |
| Destination | Percentage of bookings in 2019 | Percentage of bookings in 2017 | Change |
| South East Asia | 18% | 23% | −5% |
| North America | 23% | 23% | 0% |
| Caribbean | 11% | 15% | −4% |
| Africa | 14% | 14% | 0% |
| Latin America | 11% | 8% | 3% |
| India | 8% | 6% | 2% |
| Middle East | 5% | 6% | −1% |
| China | 4% | 4% | 0% |
| Australia and New Zealand | 6% | 4% | 2% |
Source: Reiseanalyse, 2020 and 2018
You need to offer sufficient information to attract German tourists. They tend to seek a lot of information before deciding to visit a place. Like most Europeans, Germans are quite straightforward in their communication style, but they are also well known for being organised and punctual.
France
France has the third-largest population in the EU, with approximately 67 million people. It is also the EU's third economy and the seventh largest economy in the world with a €2.3 trillion GDP. A 44% share of French tourists prefer active holidays. For French teenagers between 15 and 19, this is 50%, and for those in their twenties this is 52%. Only 2.5% of French tourists see sport activities as the main reason to go on holiday, which is below the European average of 4.4%.
Important developing country destinations for the French include Morocco (1.6 million in 2017), Thailand (740 thousand), Turkey (58 thousand), Tunisia (57 thousand) and China (49 thousand). For the French, natural features are the most mentioned reason to return to a previously visited destination. Almost 80% of the French tourists prepare their holidays online.
Italy
Out the top European source markets, the Italians score second in their preference for adventure travel. With 5% preferring an adventurous trip, their preference for adventure is stronger than that of the Germans and the British. Italians have a very high preference for the cultural aspect of adventure tourism. This was a finding of the Eurobarometer research in 2016.
Italy was one of the first places in Europe where the COVID-19 pandemic broke out. The country was impacted heavily and had a relative high death rate and experienced serious economic impact. The decline in GDP in 2020 for Italy is estimated at 11.2%, which is above European average. However, in 2021 its GDP is expected to recover, increasing 6.1% compared to 2020. The overall holiday budget of Italians has dropped from €1,757 in 2019 to €1,377 in 2020, which is lower than the budget of the German, British and French tourists.
Especially countries close to Italy can still profit from Italian adventure travel.
Table 3: top 10 markets for Italian tourists
| | | |
| --- | --- | --- |
| Destination | Number of travellers in 2018 | Market share on trips to developing countries |
| Albania | 436,103 | 10.2% |
| Egypt | 421,992 | 9.9% |
| Morocco | 305,505 | 7.2% |
| Turkey | 284,195 | 6.7% |
| Thailand | 279,891 | 6.6% |
| China | 277,776 | 6.5% |
| Cuba | 208,287 | 4.9% |
| Mexico | 183,913 | 4.3% |
| Brazil | 175,763 | 4.1% |
| India | 126,931 | 3.0% |
Source: World Tourism Organization (UNWTO)
Spain
According to a study by brandwatch, the Spanish have the strongest preference for adventure trips, by far. With approximately 15% preferring adventure travel, their preference is about three times as high as the Italians in second place. Just like the Italians, many Spanish prefer cultural aspects above nature.
The Netherlands
The Dutch are eager to travel to developing countries and love to spend their time in nature. With 25% considering nature as the most important reason to enjoy a holiday, they rank third in their preference for nature in Europe. Together with the British, the Dutch score especially high in the niche market of birdwatching.
Tips:
Focus on Germany or the United Kingdom if you want to enter the largest European adventure travel markets.
Target the Dutch market if you offer adventure tourism services in nature, such as birdwatching.
Focus on the United Kingdom, France, Spain or Italy if your adventure travel activities are more cultural in nature.
Read our studies on specific aspects of adventure tourism, such as birdwatching tourism, cycling tourism, diving tourism, surf tourism, trekking tourism, and wildlife tourism, if your company specialises in one of these activities.
4. What trends offer opportunities in the European adventure tourism market?
European adventure travellers seek unique experiences
According to ATTA, customised travel itineraries is the main trend in adventure tourism worldwide in 2019. Recent interviews with European travel experts confirmed that this was also the case for Europeans travelling to developing countries. European travellers tend to look for unique adventure travel experiences. This means they buy less predefined tours via tour operators, but instead determine their own routes. Adventure travellers will be very flexible in their adventure activities.
Especially travellers from Generation Y and Generation Z look for interaction and deeper engagement with local culture. They like to do and see things and are less attracted to pure leisure. An example of a unique and never-to-be-forgotten experience is playing cricket with Maasai warriors and enjoying a chat afterwards, instead of 'just watching' a ritual dance. Another example is 'the Big 5 Marathon': running a marathon while enjoying wildlife. Doing so would create a far more memorable story and experience then 'just sitting in a jeep and looking' at wildlife. Safety and wildlife protection are ensured by carefully planning routes as well as using the marathon for raising funds for community development and wildlife conservation.
Because experiences are becoming more important, the marketing strategy of tourism companies is also changing. While many suppliers still base their communication on listing services they offer for a certain price (commodity marketing), many companies now focus on offering experiences. These experiences should suit your targets personas, their values and their needs.
An example of a company doing this very well is &Beyond. Instead of communicating deals, prices and services, this companies' communication is based on offering 'extraordinary guest experiences' and promising a positive impact on the local environment. These promises of experiences are combined with amazing films of possible life-changing experiences and beautiful pictures. When you click on a destination, the website points out unique details of the destination and relates this to your personal experience. For example, Kenya is described as "spectacular natural beauty in one of the most unspoiled places on earth, but it also brings you up close and personal with Africa's most sought-after wildlife".
Another interesting example of a company focusing on offering unique and personal experiences is Paramount Journey in Tajikistan. Instead of listing deals, they focus their communication on the personal experience you will have when travelling with them.
Tips:
Read our study on how to get started developing your tourism product, based on your customers personas. Besides showing you what to focus on when developing products, creating personas will also help you to communicate more effectively to your target group.
Read our study on FIT tourism to learn more about how European travellers plan their own trips. Read also our study on trends in the tourism market. Most trends in the European tourism market will also apply for adventure tourism.
Attract tourists on location, as many European tourists decide on the spot in which touristic activities to participate.
Target European tourists directly by promoting stories, photos and videos about your activities. Promote your own stories or invite a European blogger of vlogger.
Give your customers personalised advice to make their experiences unique. This can be a slightly different route, a unique rock to climb or a special snorkelling spot.
Adventure tourism more related with wellness
Mental and physical wellbeing are growing in importance for Europeans. This is especially the case for adventure travellers, who see their activities partly as a way to de-stress and improve physical condition.
Tips:
Be very clear to your visitors about the level of challenge an activity offers. Adventure travellers will like challenges, but only challenges they know they can conquer. Provide tour operators with sufficient information, like clear brochures including detailed photos. European travellers demand lots of information. For example, if you organise a bike ride, just saying that it happens in the morning is not enough; you should also provide the distance travelled, the change in altitude, the duration and the number of breaks, especially if your target group is older.
Give travellers the feeling that they can improve their level of competence within the activity by advising a bigger challenge when they complete the initial challenge.
Offer healthy choices. For example, when offering a meal, make sure you also offer options with many vegetables or offer supplements like nutrition bars.
Offer information on calories burnt during activities. You can easily give an estimation by multiplying the average time of the activity by the number of calories burnt during the activity.
Read our study on physical wellness tourism and inner wellness tourism.
Adventure travel more related with technology
As technology becomes more present in people's lives, it is also the case in adventure travel. Hikers, cyclists, climbers, sailors, skiers, horseback riders and many others find their trails or spots online. This is especially the case for generations Y and Z. Websites like Wikiloc, More Dirt (for mountain bikers) and Snorkelling Report for snorkelling) inform travellers of routes and places for practice. In addition to websites, there are also many apps, like RouteYou (for hiking and cycling, but also for canoeing and more), Komoot (for cycling and hiking) and ViewRanger (integrated with virtual reality).
Tips:
Increased use technology is a trend in all sectors in tourism. Read more about this trend in our study on trends in tourism.
Make sure that the routes and spots near you are described online or in an app. This will require some work, but you can collaborate with other entrepreneurs on it. Add photos to a route to make the route attractive.
Advise your customers to use a specific website or application where your routes can be found.
Ask your customers which application or website they use to find spots and routes. Many activities will use a specific application, like SurferToday, which is specifically for surfers.
Tourism organisations are starting to use virtual reality (VR), augmented reality (AR) and mixed reality (MR). With these techniques, potential visitors wear a headset and are able to 'walk through' and act in the environment you created for them. This involves visual as well as auditive elements. These are new ways to give potential visitors a very vivid insight into your activities. Since you need a headset to show these techniques, and most European tour operators don't work with these headsets yet, these techniques will probably not help you at the moment but may become more common in the coming years.
What is more useful to you now is the possibility of making 360º videos and pictures, which allow viewers to look around while watching the video or photo. This will give an even more vivid experience of your activities than a regular video or picture. To make a 360º video, you need a special omnidirectional camera; for a 360º picture, you can just use the camera on your mobile phone.
Tips:
Share a 360º video or several 360º pictures of your accommodation. You can use high-quality images, such as the Atlantis Dubai tour, or something more simple, like the online tour through hotel El Cactus.
Make a 360º video or 360º photos of your adventure experiences, such as hiking, climbing, sailing or kayaking.
Share your videos and pictures online on YouTube and other media, including your website and social media.
Start with making 360º pictures, which don't require any investment. You can also use Facebook and the Google Street View app to enhance them.
To make 360º videos, you need to buy a special camera starting from approximately €170, or hire someone to do it for you.
Younger travellers more important in the adventure tourism market
Generation Y and Z are more active when travelling than previous generations and focus more on personal growth and development as well.
Tips:
Read our study on Generation Y, to learn more about this target group.
Spend time with your customers and talk to them. Talk about your adventure activities, which is something they are interested as well.
Make sure to provide an environment where it is possible for travellers to do work on the go, such as offering internet access.
Blurring of education and travel projected
Many European parents see travelling as one more aid in their children's education, exposing them to different cultures during holidays. A very few will even take kids on year-long trips, which require kids being out of school for that whole period. Travel is expected to be weaved into education more in the future.
Tips:
Offer information to visitors about the environment, culture, nature, and other specifics of your area. Include information that is accessible to children.
Offer activities for children to learn about local nature and culture. Tugela Tours, for example, offers tours for children to learn about nature while on vacation.
Address parents and tell them about what your trips bring to their children. AJ Kenya Safaris' website, for example, communicates in a way that is appealing to European parents.
This study has been carried out on behalf of CBI by Molgo and ETFI.